Are You Looking for Jerky?
Our Pacos street location is where we make our world famous jerky. We literally ship jerky all over the world. Our flavors and varieties are made to satisfy every flavor palette. Come in and try a sample, it is well worth the trip. All samples are free.
You can also Order Online!
See Our Selection of Meats & Flavors
Are You in the mood for Thai Food?
Come on in and try our Authentic Thai Food!
You can also call in or Fax your order for pickup or delivery! Suntharee may have started the business with jerky but she and her sons really just enjoy making Thai food. The fact that the food is made with loving hands is very evident in every meal. Portions are generous and the flavor, well, you have to try it to truly appreciate it.
Order Online!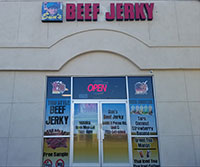 Main Location
6495 So. Pecos rd. unit C,
Las Vegas, NV 89120
(702) 541-6868
Monday – Friday:
11:00am to 5:00pm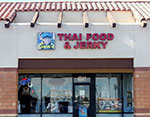 Restaurant Location
4941 W. Craig Rd,
Las Vegas, Nevada 89130
Monday – Saturday:
11:00am to 9:00pm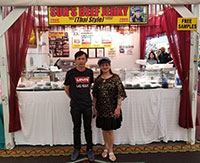 Fantastic Indoor
Swap Meet
1717 So Decatur Blvd. E-17,
Las Vegas, Nevada 89102
Friday – Sunday
10:00am to 6:00pm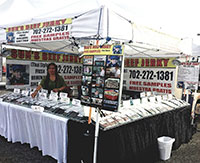 Farmer's Markets
First Friday of the Month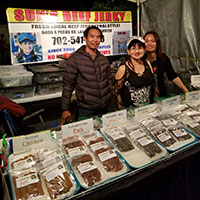 Specialty Events
First Friday of the Month
Sun's Thai Food & Jerky
4941 W. Craig Rd
Las Vegas, Nevada 89130
(702) 272-1381
(702) 395-0886 Fax
sunsthaifoodandjerky@hotmail.com