Come to Las Vegas where you can "

try it before you buy it.

"

We have "

free samples

" at all locations.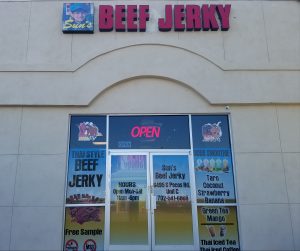 Welcome to Sun's Beef Jerky (Thai Style) where all of our flavors and meats are because of customer request. If it is requested, we will make the jerky and market it at our outlets. If it sells, we keep it. We have done Alligator, Buffalo, Beef, Chicken, Elk, Deer, Pork, Squid, Tofu and other kinds of meats and flavors. We can produce any of our flavors in Lo-Carb using Splenda instead of sugar. Send us a request and we will consider it.
Our most successful request is Cecina (lime flavor). At the outdoor swap meet, our neighbor Mike asked us if we could make him some Cecina. He said his mother in Mexico always made it by drying it in the sun. We asked for a sample flavor or recipe to follow for the flavoring. The next week he brought us a sample of the meat. Suntharee tasted it and said she would try to make it. The Cecina you buy today is the original recipe she came up with from that one taste. The recipe has not been altered at all. Mike said she hit it on the nose. Suntharee can taste something and translate the taste into a recipe. Remember, we make all of our sauces from scratch and process our own beef, chicken, pork, salmon and buffalo.
Our Menu
BEEF
PRICE
Teriyaki: Regular or Hot
Teriyaki Mango: Regular or Hot
Hawaiian Pineapple: Regular or Hot
Thai: Hot(

#10

)
Smoke: Regular or Hot(

#10

)
Smoke Pepper
Cecina (LIME): Regular or Hot(

#10

)
Thai Steak: Regular or Hot
(Low Salt, Low Sugar)
$5.00 and $10.00 packages
CHICKEN
$5.00 and $10.00 packages
CRISPY PORK
$5.00 and $10.00 packages
SALMON
$6.00 and $12.00 packages
BUFFALO
$6.00 and $12.00 packages
FLAT RATE BOXES
Small – $20.00 per box 2- 10s or 1-10 & 2-5s or 4-5s
Medium – 11×8.5×6— $100.00 per box 10-10s or 20-5s
Medium Book Box – 11.75×3.5×13.5—$120.00 per box 12-10s or 24-5s
We ship using USPS Flat Rate boxes.
This information is to help you plan your order and thus minimize your shipping costs.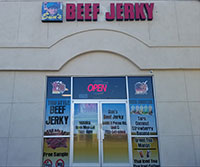 Main Location
6495 So. Pecos rd. unit C,
Las Vegas, NV 89120
(702) 541-6868
Monday – Friday:
11:00am to 5:00pm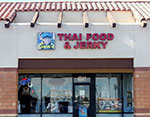 Restaurant Location
4941 W. Craig Rd,
Las Vegas, Nevada 89130
Monday – Saturday:
11:00am to 9:00pm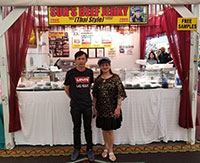 Fantastic Indoor
Swap Meet
1717 So Decatur Blvd. E-17,
Las Vegas, Nevada 89102
Friday – Sunday
10:00am to 6:00pm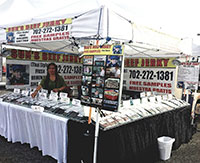 Farmer's Markets
First Friday of the Month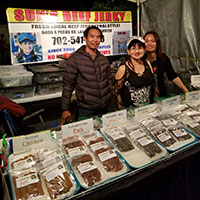 Specialty Events
First Friday of the Month
Sun's Thai Food & Jerky
4941 W. Craig Rd
Las Vegas, Nevada 89130
(702) 272-1381
(702) 395-0886 Fax
sunsthaifoodandjerky@hotmail.com